Come Sail With Us!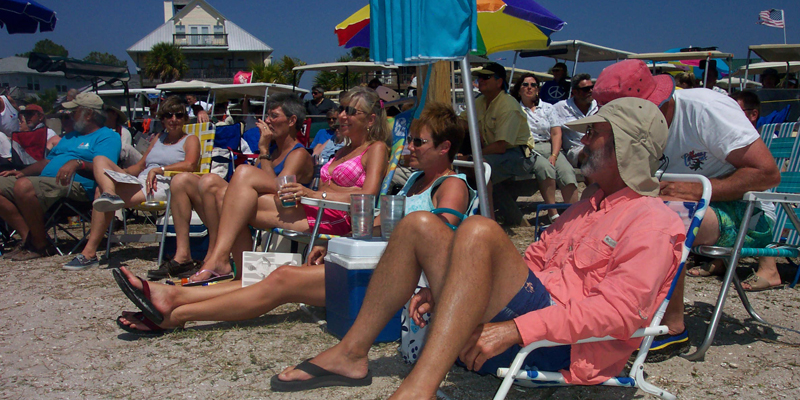 Thanks to our MANY wonderful supporters and volunteers the Stephen C. Smith Memorial Regatta Foundation was able to donate $16,000 raised at the 2013 event to the local American Cancer Society branch. THANK YOU!
2014 will be the 41st Annual event for the Stephen C. Smith Memorial Regatta, held for each of the past 40 years at Shell Point Beach on the Gulf of Mexico in southern Wakulla County. This year's event is scheduled for April 25-27, 2014. (Make sure you pre-register so you can enjoy Friday night carefree.)
The SCSMR is for the benefit of the American Cancer Society in memory of Stephen Smith, a local sailor who died from a rare form of leukemia at the age of 29. The 2014 event organizers are the Shell Point Sailboard Club (SPSC), the American Cancer Society (ACS), the Apalachee Bay Yacht Club (ABYC) and numerous businesses and individuals.

Sailing
The Regatta has drawn as many as 200 registered participants and hundreds more spectators from all over the southeast. The event includes: races for yachts rated under the PHRF handicapping system, catamarans such as Hobie Cats, smaller day sailors including Sunfish, and windsurfers, the most numerous and arguably the most colorful participants in the Regatta.
The windsurfing fleet will be competing for points in their national standings. Catamarans and one design day sailors, and small and large (22 feet and over) monohulls will race over their own courses. Races are held both Saturday and Sunday, with other events for sponsors, spectators, and participants on Saturday night.
The public is invited to view the races on Saturday and Sunday, the Parrothead Poker Run, now in golf carts, on Sunday morning, and to participate in the auction of thousands of dollars worth of donated items on Sunday afternoon beginning after the trophy presentations (about 2:00 pm). Everyone can have a great time and pick up some great deals while making a contribution to help us all fight cancer.

An American Cancer Society Benefit
In addition to the many patient services provided to children and adults, the American Cancer Society funds research and public education, which is vital in the effort against this silent killer. The American Cancer Society receives no government funding and relies exclusively on the generous support of private donations. In the last five years, the Stephen C. Smith Memorial Regatta Foundation, Inc. was able to contribute over $80,000 to the ACS, the majority of which stayed in the Big Bend area, providing educational programs and patient services to area residents.
Businesses or individuals wishing to participate as sponsors will receive a receipt for their donation, a certificate of appreciation, and other benefits appropriate to the level of support. Contributions may be made by donating items for the auction, in-kind merchandise to support the event, or negotiable funds. Donations will be recognized in the Regatta Program Booklet, on this website, and on the sponsor board.